Smoking and Passive Smoking During Pregnancy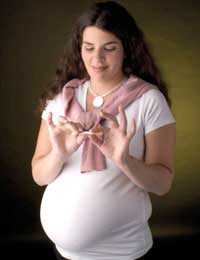 Both smoking and passive smoking can harm your baby even when they're still in your womb. Find out why and discover the benefits of giving up and avoiding contact with other smokers.
Smoking
Smoking and pregnancy don't go hand-in-hand. Smoking throughout your pregnancy can damage your own health, but it can also cause harm to your unborn growing baby. It's been linked to numerous health problems and increases the risk of:
Your baby being born prematurely.
Your baby being born with a low birth weight.
Miscarriage.
Breathing and wheezing problems, especially in the first six months, and poor lung condition.
Your baby having smaller organs.
Your baby being ill more frequently.
Your baby dying from cot death – the risk is twice as high for those born to smokers.
What's more, the effects of your smoking habit can stunt your baby's growth, by reducing oxygen levels and causing the blood vessels in the placenta to narrow. The amniotic fluids in which your baby lives and floats in the womb will be filled with chemicals from the cigarette – chemicals which can cause cancer – and your baby's heart will beat at an unhealthily fast rate.
If you smoke late into pregnancy, they'll be a greater risk of placenta abruption – where the placenta dislodges itself from the womb before the birth – which can cause premature birth or even stillbirth.
Due to this, it's important to stop smoking as soon as you can and encourage anyone else in your household to do so too. There are numerous benefits for you and your baby and whilst you're pregnant, you'll be less likely to suffer from morning sickness and experience fewer complications. Support and help is available from your midwife, GP or antenatal clinic, so speak to someone today.
Passive Smoking
But it's not just the physical act of smoking a cigarette that can cause problems. Passive smoking, whereby you breathe in the fumes of someone else's cigarette, can be harmful to your baby too. Studies into the effects of passive smoking have found that it can have significant effects on an unborn baby.
One study, for example, found that having a partner who smokes more than 20 cigarettes a week can greatly increase the risk of miscarriage (in the study, one third of women whose partners smoked over 20 cigarettes a day lost their babies within six weeks of conceiving). As well as the risk of miscarriage, passive smoking increases the chance of your baby being born underweight – which has the added effect of increasing the risk of developing infections and other health conditions.
In addition to being harmful during pregnancy, both smoking and passive smoking continue to pose dangers once your baby is born. For example, babies exposed to smoke have a greater chance of dying from sudden infant death syndrome/cot death, are more likely to experience respiratory problems and have a greater chance of getting ear infections (such as glue ear). In addition, smoke exposure increases the risk of serious illnesses, such as meningococcal infections and childhood cancer.
In short, smoking and passive smoking can cause serious harm to you and your baby, both in and out of the womb. So consider the situation carefully before you light up, or let someone in your presence start smoking a cigarette close by.
You might also like...
PLS for all married couples, endeavor to avoid some things that is avoidable during pregnancy which can affect YOU and YOUR BABY..
classic angel
- 29-Jun-11 @ 11:45 AM