Toxoplasmosis, Listeria and Salmonella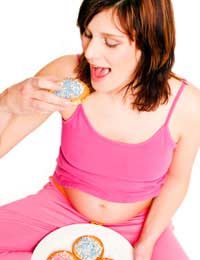 Keeping healthy and well during pregnancy is vital for both yourself and your growing baby. Your immune system inevitably goes through changes and you need to be more aware of food safety issues especially guarding yourself against the risk of toxoplasmosis, listeria and salmonella.
Toxoplasmosis
Toxoplasmosis is an infection caused by a parasite called toxoplasma gondii. It can be caught from eating undercooked meat or from touching cat faeces. It's possible to have it during pregnancy and not be aware of it, or just feel like you've got flu. But if it's passed on to your baby, it can be dangerous.
It's during the first trimester that toxoplasmosis can pose the most danger for your unborn baby. This is the time when they're developing and the infection can damage the development of the eyes and brain, as well as affect a baby in other ways.
There are a number of things you can do to reduce the risk of toxoplasmosis occurring. For example:
Cook meat and poultry thoroughly, so there's no pink meat and the juices are clear.
Avoid raw meats, such as salami.
Always wash raw vegetables and store them away from other foods.
Always wear gloves when you handle cat litter, or get someone else to do it for you.
If you're worried you may have toxoplasmosis, speak to your doctor immediately. It's possible to confirm the infection with a blood test and, if it is positive, drug treatment is available. This can help reduce the risk of the parasite affecting your baby, as well as improve your own symptoms. Similarly, you can have a blood test done to check your immunity to toxoplasmosis.
Listeria
Listeria is a type of bacteria which is widely abundant in the environment. It's found in soil and vegetation, as well as raw milk, meat, cheese (especially soft ripened cheese), poultry and salad. It's a type of listeria called listeria monocytogenes that can cause illness and can pose a risk to pregnant women.
The illness caused by listeria is called listeriosis. For a pregnant woman, listeriosis can cause flu-like symptoms, such as a sore throat, aches, pain and a raised temperature. It's not a major problem for women, but it can be dangerous if it is passed on to an unborn baby, causing illness, miscarriage and premature labour.
It's possible to diagnose listeriosis from a blood or urine test and antibiotic treatment can reduce the risk to your baby. If you're concerned you may have it, see your doctor immediately.
There are plenty of practical steps you can take to avoid listeria, much of which involve basic food safety.
Avoid eating soft ripened cheese, blue veined cheese and pate.
Wash all salad ingredients before eating.
At cold buffets and deli counters, avoid ready-made salads and coleslaw.
Avoid buying loose items such as pies, poultry and pastries (they're fine if they're packaged and date-stamped).
If you're re-heating convenience foods do so very carefully and always follow the recommended guidelines.
Salmonella
Salmonella is a type of bacteria which is usually found in eggs, unprocessed milk, meat, water and poultry. It's one of the most common causes of food poisoning and can be very unpleasant for anyone to experience, not least pregnant women. It causes symptoms such as vomiting, diarhhoea, dehydration and a high temperature and some people need to receive hospital treatment. Although there's no direct harm to your baby, you can feel very unwell.
The risk of getting salmonella can be reduced by following basic food hygiene rules. In particular:
Avoid eating foods made with raw or undercooked eggs, such as meringue, sorbet, mousse, cake mix and mayonnaise.
Cook eggs thoroughly, so that both the yolk and white are hard.
Avoid raw or undercooked shellfish.
Avoid unpasteurised cow, sheep or goats milk.
Avoid soft whipped ice cream – the type sold from ice cream vans. All these conditions sound nasty, but it is worth bearing in mind that both toxoplasmosis and listeria are quite rare complications of pregnancy. As long as you follow basic hygiene rules and are careful, you should be protected.

You might also like...