A Balanced Diet During Pregnancy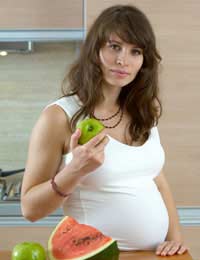 A healthy balanced diet is recommended throughout life and pregnancy is no exception. Not only are you eating to provide yourself with essential nutrients, but also your growing baby, too. But what types of foods should you be eating?
What to Eat?
To get a healthy balanced diet, the general advice is that you should be eating:
Plenty of starchy foods, such as rice, potatoes, pasta and bread, particularly wholegrain varieties.
Five different portions of fruit and vegetables each day. They can be fresh, frozen, dried or tinned and one glass of fruit juice a day counts as one portion.
Dairy foods containing calcium, such as cheese, milk and yogurt.
Protein-rich foods, such as meat, fish, pulses and eggs. It's good to aim for at least two portions of fish per week, including oily fish and all these foods are good sources of iron too, which can help during pregnancy.
Plenty of foods high in fibre, such as wholegrain bread, pulses, fruits, vegetables and rice.
Minimal amounts of fatty and sugary foods, such as cakes, pastry and biscuits. It's good for health in general not to eat too many of them, but can also help you avoid putting on too much weight during the course of your pregnancy.
Portion Sizes
When you're advised to have "five portions of fruits and vegetables per day", or "one portion of meat", it's hard to know exactly how much is meant. As a guideline, one portion of fruits and vegetables is equal to:
One large apple, pear, orange, banana, potato or other large fruit or vegetable
Two small fruits, such as plums or satsumas
One cup of small fruits, such as grapes
One tablespoon of dried fruit
One 150ml glass of fresh fruit or vegetable juice
One dessert bowl of salad
Two large tablespoons of fruit salad, canned or stewed fruit
In the case of protein foods, such as meat, fish, dairy or pulses, one portion equals:
One small lamb or pork chop
Two eggs
One small fillet of cod
Two slices of beef, ham, chicken or turkey
Two tablespoons of tuna
Three tablespoons of beans or pulses
Foods to Eat During Pregnancy
When you're pregnant, you need to ensure your growing baby gets a good supply of all the essential nutrients, vitamins and minerals. As part of a balanced and healthy diet, make sure you eat plenty of foods rich in iron, folic acid and calcium, as all are crucial for your unborn baby.
Iron is primarily found in red meat, pulses, bread, fortified cereals and green vegetables. It's good to have iron, as pregnant women can often become deficient in it and some women need iron supplements.
Folic Acid is found in fortified bread and cereals, brown rice and green vegetables. Having a good supply can reduce the risk of your baby developing neural tube defects, such as spina bifida. Although it's good to eat foods rich in folic acid, you should also take a daily dose of 400mcg of folic acid throughout pregnancy and when you're trying to conceive.
Calcium is mainly found in dairy products such as cheese, milk and yogurt and both full-fat and low-fat versions. As well as calcium, dairy foods also contain other vital nutrients, like vitamin D, vitamin B and zinc, which are needed for a healthy diet.
What To Avoid?
As well as advice on the best food to eat during pregnancy, there is also guidance on those things that you should avoid. To find out more, read our article
Which Foods Are Not Safe in Pregnancy?
.
You might also like...