Foods to Eat After The Birth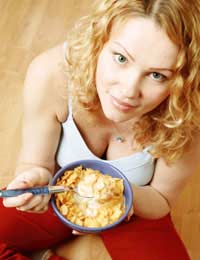 Giving birth is a major physical achievement for any woman so in the weeks and months after this event her body must rest and allow itself to recover. While some of the weight gained during pregnancy will help do just this, new mothers must ensure that they eat a balanced diet in order to take in all of the necessary nutrients to speed healing and health, not to mention provide the energy that will be sorely needed with a new baby in their home.
General Nutrition
In this day and age, when a new celebrity fad diet seems to take hold every few minutes, many people have already become confused about proper nutrition. New mothers in particular must eat foods that provide them with the vitamins and minerals that they need to stay healthy and active. General nutrition guidelines that everyone should be following include:
At least five servings of breads, cereals and potatoes per day.
Five servings of fruits and vegetables.
Two servings of meat, fish or alternatives.
Two servings of milk and dairy.
A small serving of fatty or sugary foods per day.
Nutrition for Breastfeeding Mothers
As a nursing mother you will be passing your nutrition on to your baby, so it is important to remember that everything you ingest could have an effect on your child. Many nursing mothers try to avoid spicy foods as they may upset a baby's delicate system, but from a medical standpoint that are almost no specific dietary restrictions except to stay away from alcohol. However, if you notice your baby becomes irritated after you eat a specific food or meal then try to avoid it for your baby's sake.
Nursing mothers should be sure to eat a varied and well-planned diet, and they should refrain from counting calories or actively dieting while breastfeeding. Most nursing mothers will find themselves hungry often, and not only is this normal but it means that they should be eating often as well. Nursing mothers should try to eat:
A diet high in protein (meat, fish, eggs and/or legumes).
Four to five fruits and vegetables per day, and more if they are so inclined.
A minimum of two servings of dairy per day (milk, cheese, etc.), or a calcium supplement if this is impossible (speak with your doctor before taking any supplements).
At least 8 glasses of water per day, and preferably one glass every time you nurse.
Snacks and Meal Suggestions
Many times new mothers are surprised by how much they should be eating after giving birth. In fact, fitting in all of your dietary requirements is not hard if you consume three balanced meals and a few healthy snacks each day. Many new mothers have come to rely on:
Eggs, toast and fresh juice for breakfast.
Cereals with milk for breakfast and snacks.
Snacking on apples, oranges, bananas, berries, melon slices and bowls of fruit salad.
Using mixed salads and boiled/steamed/grilled vegetables as side dishes at lunch and dinner.
Organising meals around one protein-packed main dish such as grilled or baked chicken, steak, or grilled or baked fish.
Treating themselves to all natural frozen yogurt or fruit sorbet when their sweet tooth acts up.
Deciciding which foods to eat after birth can be frustrating for many new mothers who barely have the energy to do the laundry much less whip up a gourmet meal. The good news is that gourmet meals aren't necessary as long as new mothers are eating a varied and nutritious diet – and eating as often as they feel the need!
You might also like...
i found out that this website had a lot of detail on it and it help me with my research i would reccomend it
nic
- 10-Sep-13 @ 11:55 AM
i think it was a good website i got loads froms this
freddy
- 10-Sep-13 @ 11:53 AM