Baby Naming Ceremonies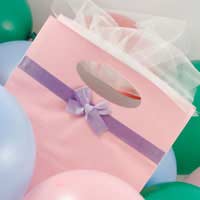 If you'd like to have your baby officially named, but don't want to have a formal christening or baptism, then there are plenty of alternative options available.
Having a Naming Ceremony
If you're not religious, but would like to have a naming ceremony for your baby and share the occasion with friends and family, then a non-secular service is a great way of doing so. It's a great opportunity to bring together your family and friends and celebrate the life of your new baby – as you would with a christening, but without the religious element.
The ceremonies can, to a certain extent, be however you'd like them to be, but typically last about 20 minutes to half an hour. You can organise the whole event yourself, from choosing the location, how you'd like it to be, any readings or poetry you want read out and any godparents or mentors you'd like your child to have.
If you need a bit more direction and help with preparing the event, then organisations such as the British Humanist Association can help with arranging naming ceremonies (the ceremony is in no way legally binding). The idea with a naming ceremony is for the parents to declare their love and care for their child, and how they'll always be there to support them during life, and for any named godparents or mentors to declare their commitment too.
Having a Blessing
If you like the idea of having your child welcomed into the Christian church, but don't want a fully fledged christening, a blessing is a good alternative. Perhaps one of you is a Christian and the other isn't, or you believe in the opportunity for your child to choose their own faith when they grow up.
Many churches are now happy to offer a blessing as an alternative and agree that it's fine to wait until your child is old enough to decide for themselves whether or not they'd like to be baptised. Blessings are usually carried out within a main church service, although it is always worth enquiring to see if a separate service could be carried out (or, for example, some people have it as an add-on if they are getting married and already have children).
If you've chosen to have godparents, then it's a chance for them to be recognised. The family, baby and any godparents will usually have to go to the front for the blessing and say a few words. The congregation at the service will then make their promise to look after and support the child. Sometimes churches are happy for families to write their own words for the blessing, otherwise set words may be used.
Having a Thanksgiving
If a blessing still sounds too formal for you, another alternative is a thanksgiving. It works in a similar way to a blessing, and godparents can be included, but it focuses more on giving thanks for the birth of your child and you don't need to make declarations of faith.
As with christenings or blessings, many families like to have a bit of a get-together afterwards, to wet the baby's head and socialise.
You might also like...