Returning to Work After Giving Birth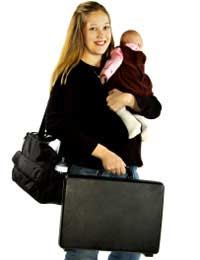 Giving birth is so physically exhausting that it might be a while before you even feel ready to leave your bed never mind return to work. In fact, once they have had proper rest, many women realise that they have conflicting emotions about returning to work. Feeling elated, energised, anxious, frustrated, and overwhelmed all at the same time is not uncommon in new mothers considering returning to work after giving birth. Using your maternity entitlement, securing your rights as a working mother and having confident childcare lined up are all integral to your peace of mind before returning to work.
Maternity Entitlements in the UK
In order to take maternity leave, pregnant women must be responsible for letting their employers know of their pregnancy and plans before the 15th week before birth. At this time you must tell your employer not only of your expected due date but of when you would like your maternity leave to start as well. After you have given this date, your employer must reply within 28 days. If at any time you would like to change this date you can do so up until 28 days before the start date of your maternity leave.
In the UK, women are now able to take 52 weeks of maternity leave. SMP is paid for up to 39 weeks. For further information on maternity entitlements in the UK, engage the services of a solicitor or visit the Department of Trade and Industry's Maternity Entitlements and Responsibilities web page. Further information can also be provided by:
Rights of Working Mothers
Working mothers generally need more flexibility in their schedules for a variety of reasons – their own ante-natal appointments, their children's health concerns, childcare issues, breastfeeding and more. At the moment new mothers do not automatically have the entitlement to flexible or part time working hours but they do have the right to request such hours and to have their request be seriously considered.
In addition, new mothers do have the right to time off for ante-natal care, safe working environments in which they might breastfeed, unpaid parental leave and to claim Child Tax Credit. For further information on the rights of working mothers, visit:
Confident Childcare
Finding childcare for infants can be slightly tricky as there are often statutory guidelines that limit the number of babies that any carer can look after at one time, but this certainly doesn't mean that finding confident childcare will be impossible. In the UK a variety of childcare options exist including:
Day nurseries
Childminders
Nannies
Au pairs
Of course you won't want to leave your child with someone just because they are willing or able. Instead, interview potential childminders as you might any candidate for a new job. Specifically ask about:
Certification and qualifications.
Experience.
References.
Childcare philosophies (particularly regarding discipline).
Typical activities carried out with the children.
Availability.
Hours and rates.
Returning to work after giving birth can be an emotionally trying time. Before making any firm decisions, investigate your maternity rights and responsibilities, securing your rights as a working mother and lining up confident childcare. With all of this support behind you, returning to work after giving birth may not be easy but at least it won't be painful.
You might also like...