Postnatal Depression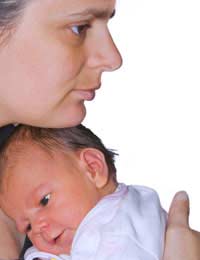 Postnatal depression is a type of depression that occurs after a woman has given birth. About 10 to 15% of women in the UK are affected to varying degrees of severity, but why exactly does it occur?
It's normal for women to feel a bit low after they've had a baby – what's known as the baby blues – as they've inevitably gone through an exhausting experience. But postnatal depression is much more than this. It usually comes on during the first few weeks or first month following the birth of a baby and the symptoms are very similar to those experienced by people suffering from depression.
Women feel very low, miserable and may get very upset and tearful for no apparent reason. The feelings persist and won't go away and they feel unable to enjoy anything. Sometimes this can be related to a new mum who doesn't feel she's enjoying having a new baby or hasn't bonded properly with her baby, but on other occasions women can feel low for no particular reason.
Women will be irritable, may experience disturbed sleep (which isn't helped by a baby having sleepless nights too), tiredness and a lack of energy. Sometimes appetite is affected, either with a desire to eat more than usual or not at all, and they may feel anxious, on edge and tense a lot of the time. All of this, at a time when they feel they should be enjoying life with their new addition, can make women with postnatal depression feel hopeless, uncaring and unable to cope.
The exact reason why postnatal depression occurs and why some women get it and others don't is unclear. However, there do seem to be a number of factors involved. Firstly, there are all sorts of hormones involved in pregnancy and these change after giving birth, so are believed to play a part. It can also be worrying and stressful suddenly being faced with looking after a young baby and, coupled with the disruption it can bring to usual routines in the day and night, may be a contributing factor.
It's also recognised that postnatal depression is more likely in those who have a history of depression in their family and have experienced ordinary forms of depression previously themselves. It can also be more common in those who've had a stressful pregnancy, or where a baby was unplanned.
The good news is that postnatal depression can be treated. If you think you've got it, or know someone who has, then talking to a doctor or health visitor in the first instance is crucial. It's not something to be embarrassed or ashamed about, as depression is a real and valid illness. Your doctor or health visitor should be able to provide you with the help and advice you need and will be able to advise on the best ways of treating it.
Antidepressants are one form of treatment, although some can get into breast milk if you're breastfeeding, but other methods of treatment include counselling and cognitive behavioural therapy (CBT). Having support at home is vital, both to help you through and help look after your baby and the rest of the family. Open up to your partner or friends and tell them how you feel, rather than hiding your feelings from everyone. It does help to talk and makes life easier for you if everything is out in the open.
Try and eat well and get as much sleep as you can, as having a baby in the house is tiring at the best of times. It's also helpful to try and arrange some time to spend on your own or with your partner, just to give yourselves a bit of a break. Talking and interacting with other mums, such as through a mother and baby group, can break up the isolation you may feel and highlights that other mums naturally struggle in the early months too.
Suffering from postnatal depression doesn't mean you're a bad mother, nor does it mean you'll lose your baby. The important thing to remember is not to suffer alone or in silence. Seek help, seek treatment and gain support and hopefully your situation will slowly improve.
You might also like...