Hypnotherapy and Hypno-Birthing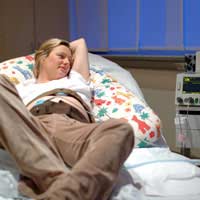 You're forgiven if hypnotherapy isn't the first thing that springs to mind in connection with pregnancy and birth. However, it's growing in popularity as a useful technique to learn and more and more women are reaping the benefits of hypno-birthing. Here's why.
What is Hypnosis?
If your only image of hypnosis has been gained from having seen stage or TV performers making people do things they aren't aware of or acting like animals, you need to think again. Hypnotherapy is nothing like this. Neither is it mystical, magical or dangerous.
Hypnosis involves a change of consciousness, where you move into a natural state of mind (often referred to as a trance) and physical, emotional and mental relaxation. You'll have a heightened sense of awareness and find it relaxing, perfectly safe and refreshing. In fact, although moving into a different state of mind may sound vastly different, we all move in and out of several different states of mind during the course of an average day. What's more, everyone's experienced a trance-like state - for example when you first wake up or are about to go to sleep - and reading and daydreaming will often take us into an altered state of awareness.
So far from being scary and weird, hypnotherapy can be a very useful experience. Many therapists offer hypnotherapy sessions to deal with all sorts of physical, emotional and mental issues, such as losing weight, stopping smoking or dealing with trauma, but there are benefits for pregnancy and birth. Used in this way, it's often called hypno-birthing.
Hypno-Birthing
Hypno-birthing is, as the name suggests, a way of using hypnotherapy to help with giving birth. It's ideal for those who may feel anxious, nervous, stressed or worried about being pregnant or giving birth, if you simply want an extra helping hand or are keen to have as natural a birth as possible. It typically involves using self-hypnosis, relaxation and breathing techniques to help you deal with pain and relax during labour and childbirth
Many people teach hypno-birthing techniques and it needs to be learnt well in advance of going into labour, so you can learn the method and fully gain the benefits. Most practitioners suggest starting at about 25 to 30 weeks, so you can get to grips with it, but classes do book up, so don't leave it until the last minute. There are one-to-one and group classes available, but there are also books and CDs that can take you through the basics.
How Does it Help With the Birth?
As with most forms of hypnosis, hypno-birthing allows you to be completely aware of everything that's going on around you, but become detached from the distractions. It's ideal for anyone having a baby, whether first timers or those who've giving birth before, and is completely safe. It can't guarantee that you won't suffer pain or complications, but statistics suggest that 65-70% of those using hypno-birthing techniques don't need any form of pain relief. It can also give you more confidence, as you feel more in control of what's happening to you and it gives you the chance to enjoy the experience, instead of worrying your way through.
Birthing partners often benefit from learning hypno-birthing too, so they can learn the techniques and guide you through them when you do give birth. As much practice as you get, sometimes with the huge amount of things going on when your waters do break, it can be hard to put everything into action. Having someone else with you who knows the art of hypno-birthing and can prompt you is really useful.
Hypnotherapy and hypno-birthing are perfectly safe and have lots of benefits, Even if you eventually decide it isn't for you, there's no harm in giving it a go and potentially lots of rewards to gain.
You might also like...