Admission Procedures and Early Labour Checks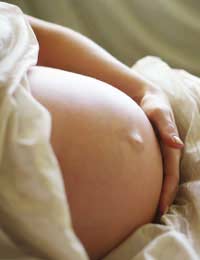 If you're coming to the end of your nine months of pregnancy and are preparing for the big day when you give birth, then here's some practical information regarding what to expect from hospital admission procedures and early labour checks.
Waters breaking and contractions starting typically occur when you least expect them, but if you've planned to give birth in hospital, then you're likely to head in for some early checks. These are designed to help a midwife assess your individual situation, how far dilated you are and if everything looks normal. Don't forget to pick up your maternity notes, or ensure they're Packed In Your Hospital Bag, as the hospital will need them to help assess you.
Midwife Assessment
When you first arrive at hospital, don't be alarmed if it's not your midwife who does the checks. Sometimes your midwife may be there and on hand to assess you, but it's not unusual for whoever is on duty at the time to handle this. You're likely to be taken into a booking in room of the labour and birth suite, where you'll be asked to describe what has happened so far and your ideal birth plan.
To get a good picture of your situation, the midwife will ask lots of questions, such as:
When did your Waters Break?
What colour were your waters?
Have you had a show (a coloured discharge)?
Have your contractions started?
How frequent are your contractions?
Early Labour Checks
The midwife will check your blood pressure, take your pulse and your temperature, and you may well be asked to provide a urine sample for analysis. They'll want have a read through your maternity notes, too, and check whether or not you've been having any problems during your pregnancy.
If you've had a show or your waters have broken, your midwife may want to see any remaining evidence of it. This may seem strange, but it's so they can check the colour of the show or amniotic fluid. In particular, they'll be looking out for any signs of meconium – the first bowel movement of your baby – as this could be an early indication that your baby is in distress.
Your bump will be measured so that the midwife can find out which way round your baby is lying and whether or not their head has engaged with the pelvis yet. They may also carry out an internal examination, as this gives a clearer idea as to how dilated your cervix is and how far on in labour you are.
All the information gathered is written down and recorded in your labour notes, or what is known as a chart called a partogram. This will then be used throughout your labour to record everything that happens.
Admission Procedures
Once all of these initial checks have been carried out, your midwife will inform you about whether or not they're going to admit you straightaway. If you're still in the very early stages of
Labour
, it's normal for you to not stay in immediately and you may be sent home to wait until the contractions become quicker and stronger.
Going home to wait may seem scary if it's your first pregnancy, but can actually be better for all concerned. Labour can take a long time as it is, so the longer you're in the comfort of your own home and able to relax as much as possible, the better it is for you and your baby.
Once you are admitted, and if you're having a normal, non-emergency labour, then you're likely to be taken to a delivery room, where you'll spend time before your baby is born.
What if You're Planning a Home Birth?
These days, home births are encouraged by many health authorities, as it provides a relaxing and familiar environment. To find out more read our feature
Having A Home Birth
in our
Birth Preparation
section.
You might also like...