What Happens When My Waters Break?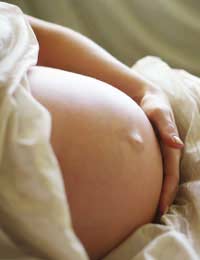 Breaking waters are widely associated with the start of labour and giving birth, but many first-time pregnant women are unsure exactly what it means or what it will be like. If you're ever wondered what really happens when your waters break, then read on to discover the facts.
Waters breaking is one of the key signs that labour is on its way but, despite it being a big milestone in pregnancy, it's surprising how many new mums-to-be don't ask more specifically about what actually happens. We've all heard the horror stories about waters breaking in the most inopportune of public places, like when you're out shopping in the supermarket, or standing in the queue at the Post Office, but not all occasions when waters break are quite so dramatic.
During the course of your pregnancy, your unborn baby is protected inside the womb by the amniotic sac. This sac, which is likened to a bag of liquid, is filled with amniotic fluid. When the membranes break, the amniotic fluid spills out and this is what's known as your waters breaking.
For some women, their waters break early on and may be the first sign that labour is starting. For others, they don't break until they're fully dilated, or they have to be helped along and broken by midwives. In rare cases, such as with premature babies, the sac doesn't break at all and the baby is born with it intact (according to some beliefs, this is thought to bring the baby good luck).
What Does it Feel Like When My Waters Break?
If you're awake when your waters break, then you may feel a bit of movement or even hear a small popping sound. Some people may find that their amniotic fluid does gush out, but it's also normal for only a trickle of fluid to appear, if the baby's head is in the way.
For those that only have a trickle, it's sometimes unclear whether this is the waters breaking or not and can feel like a bit of an anti-climax. During late pregnancy, it's also not uncommon for pregnant women to experience a leakage of urine, which can get confused with breaking waters.
What Does it Look Like When My Waters Break?
Amniotic fluid is usually clear, with a hint of yellow or pink, and possibly a bit bloodstained at first. Usually, if the fluid is amniotic, and your waters have broken, you will continue to get trickles of fluid appearing, which is a good indication that this is actually a sign that you're going into labour.
Sometimes the fluid can appear with hints of brown or green. This is an indication that your baby has passed meconium (their first bowel movement) in the womb and can be a sign that the baby is in distress, so in this case do tell your midwife the colour of the fluid as the baby may need to be monitored.
If you're unsure for definite if this is your waters breaking, then use a sanitary pad and contact your midwife – if necessary, they can analyse the look and colour of it, in conjunction with assessing you, and advise you accordingly.
If you do experience a big gush of breaking waters, then there can be an awful lot of fluid – by the end of pregnancy, women can have up to 800ml of amniotic fluid in their womb! It can be a bit sudden and take women by surprise and the practical issue of how to deal with all the fluid is often a worry. Sanitary pads are not much use for lots of fluid, so if you're at home, a towel is a good way of soaking up the fluid.
Once your waters have broken, it's important to be seen by a midwife to be assessed, even if no contractions have started. If you're having a home birth, then your midwife should come and see you at home, but if you're heading to the hospital by car, you may like to cover the car seat with a towel too, to protect it from any additional leakages.
Don't forget that when your waters break it doesn't always mean that the beginning of labour is imminent – you could find yourself waiting another 48 hours before contractions begin – but it is a major indication that it's on the horizon and the moment when your baby will be born is edging ever closer.
You might also like...