What Happens If I Get a Tear During Childbirth?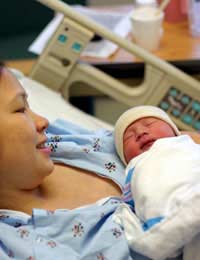 It's not the nicest childbirth issue, but tears during the process of giving birth are unfortunately a common occurrence. If you've ever wondered what happens if you get a tear during childbirth, then read on.
Statistics suggest that up to 90% of all women experience some kind of tear during childbirth. Tears commonly occur in the perineum – the area located between the opening of the vagina and the anus – and happen during birth as you're pushing to get give birth to your baby.
Sometimes midwives or doctors have to deliberately cut the skin and muscle in the perineum area to help get your baby out – this is known as an episiotomy – but on other occasions, tears happen spontaneously of their own accord as the baby stretches the vagina. With the existing pain associated with childbirth, most women are unaware of it when it actually occurs (however painful it sounds!), but are made aware of it after their baby has been delivered.
Types of Childbirth Tears
Childbirth tears are categorised into levels of severity. Most vaginal tears that occur during childbirth are what is known as first or second degree tears, but some can be third or fourth degree. In layman's terms, this means:
First degree tear – These are small, skin deep tears that usually heal quickly on their own.
Second degree tear – These are deeper tears that affect the perineum muscle, as well as the skin. Stitches are normally needed.
Third degree tear – This type of tear is likely to go from the vaginal wall and perineum to the anal sphincter (the anal muscle).
Fourth degree tear – This tear goes as far as the anal canal and the rectum.
What Will Happen If I Get a Tear?
After you've given birth, you'll be examined by your midwife and obstetrician and, if a tear is discovered, they will assess it. You'll be given full information about the type of tear you have, how bad it is and what will be done. If you need to have stitches – as you with types two to four – then you'll be given an anaesthetic (epidural, spinal or sometimes a general) and have the tear stitched up.
In the case of third or fourth degree tears, then you may well have to go into an operating theatre to have the stitching carried out.
After you've had your stitches, you'll be given painkillers, such as paracetamol, and a short course of antibiotics may be prescribed, to reduce the risk of infection. You'll be given advice about keeping your wound clean and may also be given laxatives, to help with bowel movements.
Do Childbirth Tears Cause Problems?
In the short term, the main problems caused by first and second degree tears are pain and discomfort when you urinate or sit down. Tears are essentially like a wound – they're painful, they can bleed and they also run the risk of getting infected. The pain can last a few weeks, or it may go sooner.
With third or fourth degree tears, you may find additional problems occur and it's painful or uncomfortable to have sex; it may also take you longer to get over the birth. Sometimes a bad tear can affect your usual bowel movements – you may have trouble controlling wind or may experience small leakages.
It's never nice to experience a tear, but on the whole, most tears heal quickly and new mums are able to enjoy life at home with their new arrival.
You might also like...