Waterbirth Safety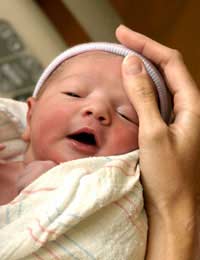 Giving birth in water is an increasingly popular labour method. If you're considering choosing to give birth in this way, is it as safe as a traditional birth and are there are any safety issues you need to consider?
Proponents of waterbirths say that warm water helps a woman during labour as it's relaxing, the water is buoyant and supporting, and it's easier to change your position. Although there have been some sceptics of waterbirthing in the past, these days it's become a much more acceptable alternative. In fact, birth pools are gradually becoming more available in the labour wards at hospitals, where women are able to enjoy the benefits of being in water during parts of, or the whole of, labour.
Research into waterbirths has found that women choosing this method are less likely to need other forms of pain relief, that water may reduce the need for assisted deliveries and that it may even cut the overall length of labour. The good news is that it seems to be relatively safe for your baby too and being in water doesn't, for example, increase the risk of a baby catching a neonatal infection. Being in a pool can help you feel much more relaxed and that has a positive effect on your baby, causing less stress and helping him gain a better supply of oxygen.
Having a Waterbirth at Home
It's possible to use birthing pools both at home or in hospital. If you're hiring a birthing pool, then it's best to look for a model that has a soft or padded edge which you can lean on comfortably. But before you book it, first of all ensure the room you're thinking of having it in can take the size and weight of the pool. The pool needs to be at least two feet deep, with most averaging about five feet by four feet wide, and there needs to be space in there for you, your partner and the midwife (although not necessarily all at once!). Without water it may seem fine, but large pools can take up to 200 galloons of water, which is really heavy.
You also need to ensure you've got a good water supply and easy access to it, so someone could top it up with warm water. As well as space for the pool itself, it's worthwhile ensuring you have space around it to - both for the midwife and all her birthing gear, but in case you decide you need to get out at any time. Your midwife just be geared up to providing help and support throughout the birth and your safety will be their upmost concern.
Hospital Waterbirths
All hospitals have their own guidelines for birth pool usage so you'll need to contact the hospital where you'll give birth if you're interested in having a waterbirth. Sometimes usage of the pool is available only to women who are regarded as being at low risk of any problems, so you may need to check this out in advance too. Some pools in hospitals are used for part of labour, for example during the early stages when the warm water can aid relaxation, but delivery is carried out outside the pool.
At hospitals where they don't have a waterbirth pool, it is possible to hire them for use in the hospital if this is the method you'd prefer.
Safety Considerations
On the whole, with the right use and care, waterbirths are relatively safe. However, although they can be highly beneficial for some women, there are certain situations where a waterbirth isn't recommended, and you need to take heed of medical opinion on this. The key situations include:
If the baby isn't lying head-down in the womb or is in a breech position.
If labour is not well established.
If the baby is considered to be at risk for any reason.
If the mother is known to be HIV positive.
If there's evidence of the baby being in distress or the baby's heartbeat patterns are unusual.
If the mother has a high temperature or high blood pressure.
If painkillers, such as pethidine, have been administered within the last four hours.
Whilst many women have had successful waterbirths and swear by them, it isn't always for everyone. Before you decide on this option, have a careful look through all the other possibilities, talk to your partner and midwife and make sure you choose the method that will be right for you, your circumstances and your baby.
You might also like...
Could you please refer me to the evidence supporting your claim that an HIV positive woman should not use a pool for labour and birth?
sailor
- 6-May-11 @ 7:03 PM