How Much Weight Gain is Expected During Pregnancy?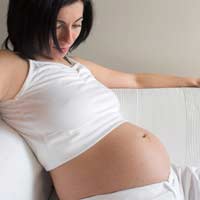 One of the certainties of pregnancy and having a baby is that you're going to put on weight, as it's a natural part of your pregnancy journey. But a common question asked by pregnant women concerns how much weight gain can be expected?
When you're pregnant and expecting a baby, your body goes through a lot of changes and it's only natural that you're going to put on weight. It's hard to predict exactly how much each and every person will put on during pregnancy, as it depends in part on their weight to start with, their diet during pregnancy and whether they're having more than one baby. However, it is possible to give an idea of the average weight gains during pregnancy.
Average Pregnancy Weight Gains
The average weight gain experienced by women during pregnancy is in the region of 27.6lb.
The extra weight you end up carrying around isn't all caused by extra fat though. In fact, when it's broken down, it makes interesting reading. About one third of your pregnancy weight is due to your baby, the weight of the placenta and the amniotic fluid.
The other two thirds of extra weight are due to changes that are happening within your body. This includes storing extra fat, which helps provide important energy for breastfeeding, but is also due to having extra fluid in your body, your breast size increasing, the increased size and weight of your womb (this can be about 2lbs or more) and the increased blood volume in your body (in the region of 2.6lb).
All of this weight is involved in ensuring you and your baby have a healthy pregnancy. But gaining too much or too little weight during pregnancy can have effects.
Problems With Gaining Too Much Weight in Pregnancy
If you gain too much weight whilst pregnant, it can increase your blood pressure and up the risk of pregnancy complications occurring. An increase in blood pressure, for example, is linked to the pregnancy condition, pre-eclampsia.
Another pregnancy condition that can be triggered by gaining too much weight when you're pregnant is gestational diabetes. This is especially caused by having too much glucose – or sugar – in your blood. As well as increasing the risk of having a stillborn baby, it also ups the likelihood of having a large baby and one that may be subject to health problems such as obesity or diabetes later in life.
Problems With Gaining Too Little Weight in Pregnancy
Some people don't gain enough weight in pregnancy, often linked to their diet or pre-pregnancy weight, and don't build up a decent storage of fat.
This can lead to pregnancy problems, such as premature birth or having a baby born with a low birth weight, and can increase the risk of a woman suffering from anaemia.
In order to give your baby the best start in life, and ensure you stay healthy and fit throughout your pregnancy, a healthy, balanced diet is important, both before you get pregnant and during your nine months of pregnancy. If you're unsure whether or not your diet is adequate, or have suffered from eating problems in the past, then seek advice from your GP or midwife.
You might also like...
Having sex during pregnancy is it right?
Phindile
- 15-Jun-13 @ 7:06 PM