What is a Retained Placenta?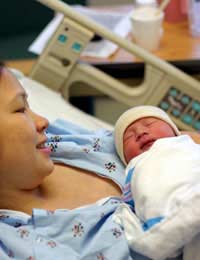 After you've given birth to your baby, the placenta is subsequently delivered. But sometimes it doesn't happen naturally and this is referred to as a retained placenta. Here we take a look at why some placenta are retained and what happens when it occurs.
When you give birth, the third and final stage of labour involves the placenta and any remaining membranes being delivered. When this happens naturally and you push it out, it can take 10 to 20 minutes, but it's not unusual for it to take some women up to one hour.
In order to speed up the process of delivering the placenta, sometimes an injection is given in your thigh as your baby is born. This is called managed third stage and speeds up placenta deliver to only five to 10 minutes. It also helps reduce the risk of heavy bleeding.
How Do You Know a Placenta is Retained?
Sometimes with both natural and managed placenta delivery, some or all of the placenta and membranes get left behind or stuck – this is what's known as a retained placenta.
Your midwife or doctor will refer to the situation as being a retained placenta if:
You've had a natural third stage, but haven't delivered all of the placenta within an hour of your baby being born.
You've had a managed third stage, but haven't delivered all of the placenta within 30 minutes of your baby's birth.
What Causes a Placenta To Be Retained?
There are three main reasons why a placenta may become retained. The first is due to uterine atony, where the uterus either doesn't contract, or doesn't contract enough, so that the placenta doesn't properly separate from the uterus wall.
The second is due to placenta accrete, where part of the placenta is embedded deeply into the uterus wall and doesn't come loose.
The third cause is due to the placenta become trapped. For example, it may have separated sufficiently from the uterus wall, but gets stuck behind a closed cervix.
Other possible causes of a retained placenta include part of it becoming stuck to a fibroid growth or an old scar in your uterus, such as a scar from a previous caesarean section. Placenta delivery can even be restricted if your bladder is full.
How Is A Retained Placenta Dealt With?
If your midwife suspects that you have a retained placenta and there's no sign if it coming out, then you may have to have it removed with help. An anaesthetic will be given, such as an epidural or a spinal block – although you may have the option of a general anaesthetic if you wish – and you'll be given intravenous antibiotics to reduce the risk of an infection and a catheter.
After the placenta and membranes have been removed, you'll be given some other intravenous drugs to help calm your uterus down after all the stress it's been through.
Occasionally, remnants of a retained placenta may only come to light after you have heavy bleeding in the days or weeks after giving birth. If this occurs, then a similar process called Evacuation of Retained Products of Conception (ERPC) is carried out, under anaesthetic.
You might also like...