Baby Shower Basics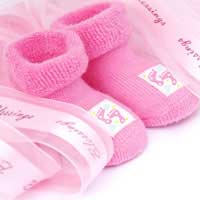 No wonder baby showers are such big business. They are the perfect way to celebrate the forthcoming arrival of a new-born. It's an ideal way to let your friends and family join in with the celebrations. Here are some baby shower basics.
What is a Shower?
If the concept of a baby shower is new to you, then there are a few things you should know. A shower is designed to let friends and family spend time with the mother to be and as such there shouldn't be too many guests present. Typically, there will be up to twenty guests present - anymore than that and mum simply won't have time to meet and greet all of her visitors.
They are normally held a couple of months before the due date. It is also acceptable to hold the shower after the birth and in many cultures this is the tradition. The only downside is that this time can be busy and stressful for the new mum - having it before the rush makes more sense.
Women Only?
Baby showers are often described as a female-only affair. This is certainly the tradition but that is not to say that men are out of bounds. It is increasingly common to find that dad and his friends are also invited to the shower. If the father wants to play a more active role, he can even hold his own shower and invite male-only friends round to celebrate the new arrival!
Invitations
A baby shower is a special occasion and as such warrants the issue of a formal invitation. Card shops cater for these events and the invites are normally illustrated with cute pictures of babies and celebrate the joy surrounding a new arrival.
You Can Always Make Your Own
Whichever you choose, make sure you include some basic details. The attendees name, the address, date and time of the shower along with the sex of the baby. The latter is an important gem of information for the guests and indeed for you, as it will have a bearing on the gift they bring with you.
What to Expect
A baby shower is different to any other type of gathering so you might not know what to expect if you are hosting or attending. What you need to know is that they generally last a few hours and are often held during the day, normally in the afternoon. These are not concrete rules but general convention.
A three-course meal is not supposed to be served at a baby shower. Light appetisers and other finger foods are however on offer. Anything goes from mini pizzas to chips and even delicate cucumber sandwiches.
It is not uncommon for an afternoon tea to be served, in keeping with a motherly and ladylike theme. These days this is in fact very fashionable. Cupcakes, macaroons and a choice of tea or champagne make for a pretty and grown-up party.
What About Entertainment
As it is an intimate gathering, guests quickly get to know each other and the mother-to-be is expected to circulate and talk to each attendee. Games are sometimes played at showers. They can be kept fun, and quite informal.
One idea could be to "Guess the mum's tummy size "- this is simple. Guests are asked to cut a piece of string to a length that would fit perfectly around mum's tummy and the most accurate guest gets a prize!
Another way to pass the time is to gather round and open the presents. The guest will normally bring a gift to the party. Anything from a large bunch of flowers to a gift basket full of baby paraphernalia will be much appreciated.
The host can also return the gesture and give favours to their guests. These don't have to be expensive but they are a nice touch and a thoughtful way of thanking your friends and family for coming. Bath soaps, candles or a small box of sweets do the job perfectly.
A small selection of food and drink, some little gifts for baby and the guests and you're nearest and dearest are the key ingredients for a winning baby shower. This is your time to celebrate something truly special so enjoy it!
You might also like...